London Array Inauguration Promotional Pack.

When it comes to offshore wind farms, you don't get any bigger than London Array.  London Array is the world's largest offshore wind farm; generating enough electricity to power nearly half a million homes per year, saving a massive 925,000 tonnes of CO2 per year.
When we were approached to print the London Array Inauguration promotion pack, we were simply blown away.   Using our specialist knowledge gained from producing the Trinity House brochure (see previous blog post), our client only had Pyramid in mind to produce this high profile campaign.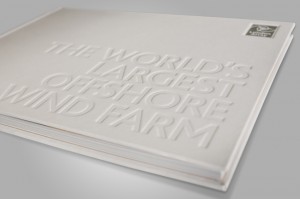 The project consistent of a suite of printed material, including calendars, presentation boxes, belly wraps, a limited edition print and spectacular case bound brochure.
The case bound brochure simply called 'The World's Largest Offshore Wind Farm' (hindsight suggests it should have been called 'The World's Best Piece of Print') demonstrates Pyramid's ability to deliver a high profile campaign without any comprise on quality.  Piecing the brochure together involved many innovative finishing's and materials.  From de-bossing, to foiling, to thread sewing to case bound, from fine linen to 100% recycled paper were all used.  Limited to only 650 copies, these will be a memorable memento of the Inauguration ceremony which was attended by many senior cabinet ministers and dignitaries.