Event 4 of 15. The Airfield Anarchy
Saturday saw Jas compete in his fourth event, the Airfield Anarchy in Newark.  This was 10K Mudrun, Jas' second mudrun, and he was simply buzzing knowing he can play action man and get really dirty and muddy.  The course was challenging in places, and thankfully the weather was kinder to him, than when he ran the  The Avalanche Run – Chase the Yeti. Here's a few action shots of Jas, he didn't really make it cross the entire monkey bars……..more training required!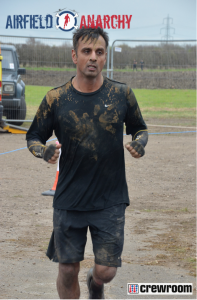 For a full review and a video of the event, please copy and paste this link into your web browser.
http://www.mudstacle.com/2014/03/airfield-anarchy-video-review-spiffing-day-newark.html
If you would like to sponsor Jas through his 'Deadly 15 Event' Challenge, to run 150 miles in 15 events, please use this link.  All money is going to The Nomad Trust, a registered charity to help the vulnerable and homeless.
https://mydonate.bt.com/fundraisers/jassandhu1